Originally, engineered wood floors were developed for use on the first floor of a home built on a concrete slab or in a basement. But engineered wood flooring technology has exploded over the last 20 years, and its products can be used just about anywhere, including in places where you'd expect to find plank floors.
Engineered wood floors can be more resistant to moisture and tend to be more stable. While no wood product can tolerate water standing on it, the increased moisture levels over concrete aren't a problem for most engineered wood floors.
The key to this increased stability and moisture tolerance comes from how an engineered wood floor is made.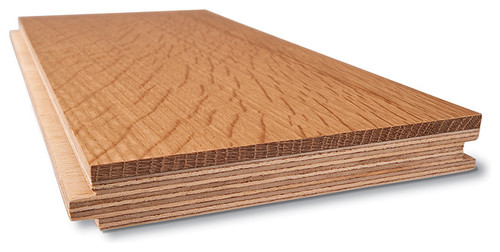 This photo shows a cross section of a high-quality, engineered wood floor. They range in thickness from 3/8″ to 3/4″ (that's approximately 1 cm to 2 cm). The top layer is a veneer of the desired wood; the thicker that veneer is, the more expensive the floor will be.
When this top veneer is very thin (.6mm or so) the resulting floor cannot be refinished should that ever be needed. However, when the top veneer is between 2 mm and 6 mm, it can be refinished multiple times.
The layers in the buildup underneath the veneer top layer are important and also play a role in the final price. There can be anywhere between three and 12 layers of plywood and unfinished white wood, depending on the thickness and quality of the finished product.
When you are shopping for an engineered wood floor, pay attention to how it's made inside almost as much as you pay attention to how the top layer looks.
Engineered wood floors
Pros: Can be used in places wood plank floors can't be used; can be a more sustainable option; tend to cost less than solid planks.
Cons: Cheap versions of this product won't last very long. Beware of low prices.
Suggested uses: Anywhere you'd use a plank floor, plus above- and below-grade locations.
Price range: $3-$18 per square foot.